Jon Webb's Paris-Brest-Paris 2015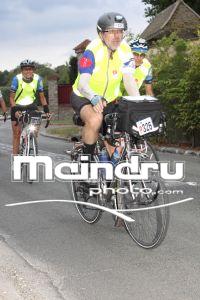 From Jon:
Pre-PBP, I prepared my bike by changing all the cables and tuning the shifting as well as I could. I also changed one tire which I thought was wearing out. I also purchased the Pro Bike shipping case from Nashbar, because I wasn't confident that my bike would arrive safely shipped in a cardboard box. This meant an additional $150 fee for shipping my oversize luggage each way (70 lb limit, BTW), but it arrived safely.
The longest ride I'd done prior to PBP was the 600K qualifying ride (well, that and Crush the Commonwealth two years before). People seemed to think it would be a good idea to do a longer ride such as a 1000K to get ready; I didn't heed their advice. It seemed to me that if I could do a 600K with a 40 hour time limit I would probably be able to do the 1230K PBP with a 90 hour time limit. It turned out I was right, though I had to learn some things about sleep that I would have known, probably, if I'd done the 1000K.
I took with me my usual kit for randonneuring: one spare tube and a patch kit, tire tools and a good multi-tool including a chain tool, a spare derailleur and brake cable, and a master link for a chain. (I'd lost my Leatherman tool at the airport; confiscated because I packed it in the wrong bag.) I heard of people bringing much more, such as a spare chain and a spare tire, but this seems to be to be overkill; the controles have complete mechanical support, and quite likely some other rider passing by will be able to help if you really need something – assuming you're using standard 700c rims, etc. (BTW, there were eight of those Elliptigos in this year's PBP. They seemed to do OK.)
I also brought a small medical kit – ibuprofen, acetaminophen, Imodium for diarrhea, toilet paper. Also a trauma pack including emergency medical supplies in case I encounter a rider who crashed, or crash myself. There were a few crashes on the course, and one rider died (a French rider, of a heart attack in his sleep, only 30 km from his home at Loudéac). One rider had a high speed crash, and broke an arm. It appears a couple others had heart attacks or similar problems that required their transport in an ambulance, though they pulled through.
I used des Peres travel to schedule everything. I understand this is the last year the venerable Claus Claussen will handle the arrangements. I decided to use des Peres somewhat impulsively, since I didn't want to deal with the details myself, and had never traveled to France before. On balance, I think this was a good idea. Had I been a more experienced traveler (I'd never taken my bike with me on air travel before, for example) I might have been happier making the arrangements myself, and would probably have saved money.
Prior to the ride, I got to know some of the Americans staying at the hotel, went on the bus tour of Paris organized by des Peres travel, and rode in to Paris after setting up my bike. The hotel is about 12 miles west of Paris, near the PBP start at the Velodrome. It was good to get out, be sure my bike was in shape, ride the Champs-Elysees, etc.
I had no idea that PBP was such a big deal in France. It is like the amateur TdF. A lot of French people who don't like the TdF because they can't identify with the riders support PBP instead (which overlaps the course, BTW, near Fougeres). You'll be riding through a village, 3 am, and there are folks at a bistro applauding each rider. Or winding down some small village street at night and somebody calls out "Bon courage" from a window on the second floor. It's really an incredible level of support, and very helpful to riders.
And the motorists are fantastic. I saw some really crappy cyclist behavior, like entering a rotary without yielding, running stop lights without stopping, etc. Motorists were completely patient. No honking. Trucks behind riders riding two abreast on a two lane road, patiently waiting for a turn to pass safely.
I did know about the families that set up tents and hand out coffee etc. to the riders. Some of them are pretty competitive, to get the riders to stop in. Girls cheerleading: "We have chocolat!" Or 11:30 pm, a couple in their front yard serving coffee from a folding table, while their child is inside, watching TV, calling for mom. They are genuinely committed to helping us and being part of the ride. If you go, look for the free crepes in Tinténiac and near Brest.
There's also the amazing experience of seeing a line of red taillights as far as the eye can see. Or the many many riders curled up beside the road or at the controles in their space blankets. Or the delicious experience of curling up yourself next to the road in a space blanket, and falling asleep. These are things you will never encounter unless you do PBP.
I started the ride not realizing that the controle card times were not adjusted to the actual rider start time. It explains this in the accompanying literature, but it appeared to me that the controle cards were individually printed so I couldn't understand why the times wouldn't be adjusted when they did the mail merge. But instead they printed all the controle cards (which are like a little book) at once and put the rider names and frame numbers on with stickers.
The point is that my start time, 7:15pm, was two hours after the nominal start time, 5:15pm. So the times on my controle card were two hours ahead of what they should have been. When you start, of course, you have an hour on the clock, and the course is easy at the beginning. The second controle isn't until 200K in, at Villaines. So by the time I got to it I was ahead of the times on my card, so I thought I was doing OK, a little tight, but OK.
This changed during the second (Monday-Tuesday) night. I took some sleep around midnight – I think maybe 45 minutes – and by the morning I really found I had to push push to keep ahead of the controle time, as I understood it. I was getting sleepy by the morning, but I took some caffeine, and was waiting for the growing light to wake me up, when I found myself drifting across the left lane and almost into a ditch before I stopped myself. Fortunately there was no traffic (from riders with a later start time) coming in the other direction. My PBP could easily have been over then and there (as it was for some other riders who made similar mistakes).
Then I got scared, and started taking short naps, half an hour at first and then shorter and shorter as the ride went on, to refresh. I had a space blanket, which the organizers recommended bringing, so I could just curl up next to the road, set the alarm on my phone, and sleep. Worked great. All it took was 10 minutes of sleep for the sleepiness and incipient hallucinations to stop. I never slept so well, on the ground next to the road. I won't ever view sleep the same way.
After that, I was doing OK, but worried about making the first controle after Brest at Carhaix. I was worried because the ride from Carhaix to Brest goes down a long mountain pass and I thought I would never be able to make it back up to Carhaix in time (though, as it happens, the route back is easier). I discussed it with a rider in the same start group as me (all the riders were identified by the first letter in your frame number. I was P, so everybody with R, S, etc. started after me. If I saw a lot of M, N, etc around me I was doing better than average. If I saw R, S, etc I was slower). She explained my mistake. This was Tuesday. I felt like I'd just been handed 2 hours. It was really an awesome relief. The first thing I did, after the controle, was sleep for an hour in a field someplace.
After that, I felt like I had PBP in hand, providing I didn't do something stupid, have a major mechanical problem, or crash. And I succeeded, in fact. As it turns out, the second night was the hardest, both because of my misunderstanding of the controle times — it's much better to take 10 minutes of sleep than to keep pushing — and because, nearest the coast, the night was cooler than it was inland. I should have brought an additional wool jersey with me, but I wanted to travel as light as possible and so was pretty chilly that night. I had leg warmers and my cycling jacket, but nothing to keep my arms warm.
Another mistake I made was not to ensure than my drop bag got to the right point. I'd left it with the hotel, understanding that another rider was having someone there drop it off to be picked up for transport to Loudéac, but unfortunately the person I left it with thought I was leaving it for safe keeping, not for transport. So when I got to Loudéac my drop bag wasn't there. I was missing a change of clothes, some batteries, and more liquid diet powder. I was able to get by without the clean clothes, and bought batteries and liquid diet powder at the controle. (The first time I tried this I bought the wrong stuff – powder for making some kind of pudding – so it kept clogging the tube system I use for drinking, and was generally disgusting. But I eventually got the right stuff.)
I had a minor mechanical issue in Brest; one of my fender stays broke. As it turns out, the weather in this PBP was awesome, with no rain except on the last day, so I didn't really need fenders. I borrowed some tools at the controle and got my fender off and threw it away in Brest.
My liquid diet meant that I didn't have to spend more than a few minutes at the controles. There was never a delay waiting in line to get my card signed. I spent a little time finding where I had to get my water bottles filled, but that was basically it. I tried to eat a little each time I passed a controle; sometimes at one of the family stands where people hand out fruit, pastry, coffee, and chocolate. Once I had a delightful crepe breakfast at a restaurant, when I thought I was doing well enough to afford it, and I had lunch with some Seattle randos in Fourgeres. But after that (until I had my two hour mistake explained) I got worried about falling behind and skipped everything but the liquid diet and maybe a quick coffee from a roadside stand. I was very grateful for the liquid diet; you'd easily waste 10 minutes at a controle or store waiting to buy food. Over a dozen controles, that's two hours.
The last night, after Mortagne-au-Perche, I was out of caffeine pills. That is stage 14, the next to last, and there is still a significant ride left, with significant hills until Neuilly-sur-Eure. I kept trying to find someone who spoke English to talk to, and finally found a woman racer from California named Nicole. Talking took my mind off my butt and kept me wide awake, Worked great. I had three hours left on the controle, so everything was fine even when we followed another rider off course 6 miles so lost basically an hour. There is a fork that was easy to miss; on the way back we let other riders know. Eventually, she got tired of me and my less competent bike handling skills, so let me go ahead. Then I found another rider, who got me near Dreux. Eventually he got pooped, so I rode the rest by myself. I was worried about falling asleep, since it was still dark, and didn't want to sleep more since I'd just lost an hour. So I just pushed hard and that kept me awake, too. I arrived at Dreux with two hours on the control, and an easy 50 miles left. I slept half an hour there, had breakfast (they had the best pastry — fresh baked chocolate croissants, still hot from the over, crisp on the outside and soft in the middle). I slept again in the final fifty miles; found myself getting sleepy and just pulled over, wrapped myself up in what was left of my space blanket, and slept for 10 minutes curled up beside the road. Then made the final run.
The velodrome had the worst, most awful food, BTW. I would never plan on eating anything there. They ran out (!) of food during the rider's lunch before the ride, which I paid Euro 13.50 for. And at the end, after turning in my controle card around noon on Thursday and waiting in a long line after riding for 4 fucking days, I was handed a plastic container with meat pasta, a really terrible looking muffin — green, lumps on the top — a piece of bread, and water. I said I'm vegetarian, and they said, sorry, we have nothing for vegetarians. Jesus. I took the muffin, just to keep it from getting eating, the bread, which was OK, and the water. They had beer, though, and I slept on the floor while trying to get my phone recharged.
I felt pretty damn good about myself for being able to finish. I'd worked out the key issues of sleep and nutrition, better than some other stronger riders (for example, one good rider told me afterwards she'd spent 8 hours on the last, relatively flat, 50 mile stage – she kept thinking she was going in the right direction while everybody else was wrong, and made U turns. At one point she thought she'd completed and called her friend to ask: Did I finish? Eventually woke up in a ditch and then finished the ride in time). I discovered that it's really not necessary to get hours of sleep; 10 minutes is fine to put quit to the hallucinations and the slowing down. And you can also wake yourself up other ways, such as by talking with the other riders — which also takes your mind off the pain.
I'd recommend this to anyone who has the ability; it's a great reason to do randonneuring, in my opinion. There is no other ride like this in the world, and you will not get to do it without randonneuring. If you are used to riding around here, you should have no problem with the hills; I didn't even have to use my inner chainring until the third day, when I started getting tired. They are longer than the hills here, but not so steep.
Bon route!
Jon also added:
If you do this, it would be a good idea to bring some sort of souvenir to hand out to people on the ride. Something small and light that you can give to the volunteers and bystanders as you wish. Perhaps something Pittsburgh-related or somehow related to Pittsburgh randonneurs. Say, something like a temporary tattoo or a Heinz pickle pin. People would appreciate it.